Edging the coast of North Carolina, with trademark Lighthouses and rich 16th century maritime history, The Outer Banks of NC present a wonderful family vacation spot. Bordering the west is the Atlantic Ocean and to the east a serene sound. Miles of beautiful beaches, breathtaking landscapes, and charming resorts cry out tranquility. Oh how awesome would it be to vacation there. Moreover, hubby is a history buff and he would definitely be in heaven.
The hubs and I have not had a vacation in a long time *sad face* Budget constraints over these years served up more stress than an abundance of business ever did. We last vacationed with my sister and her children, what a wonderful time. *sigh*  We really need to get away; as a result, I was browsing and dreaming.
Hhhmm North Carolina is not much of a drive, I was thinking. Looking a bit further I came across these Outer Banks vacation rentals and fell in love.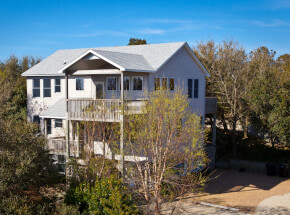 Is this incredible or what?
This huge southern charmer has five bedrooms, with two being master bedrooms, four bathrooms, a full kitchen and laundry, lower level game room, and sports bar. Viewing the magnificent sunsets from the upper deck would surely be amazing. I envision us with cocktails, feet up, and grilled snacks watching the sunset.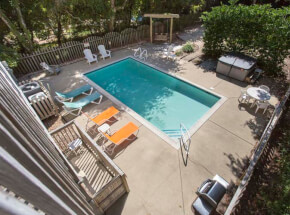 And get this, the special features of this Carolina Designs property include a private pool, hot tub, 10 TVs with cable, free high speed internet *for blogging*, 3 VCRs, 2 DVD players, a video library, stereo, air conditioning, plus the game room includes a pool table, Xbox, wet bar, gas grill, high chair, pack n play.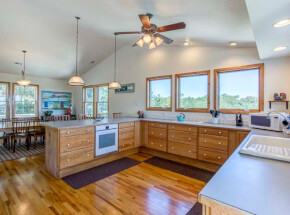 The Seahawk vacation rental is located at the north end of the Outer Banks on the sound side, south of Duck. Beach access is only 635 yards away and there is quick, easy access to Duck Village as well. The village is quaint and condensed; its attractions are easily explored on bicycle or on foot. Delightful shopping areas snuggled within signature wooded backdrops along the sound include boutiques, bookshops, art galleries, gourmet markets, coffee shops, and specialty stores. Sports enthusiasts will be well entertained with windsurfing, jet skiing, fishing, sailing, and kayaking. Ooohhh this sounds fantastic.
Oh my gosh my sister, who is a single mom with two children, and my dad would so be vacationing with us. I can see the guys fishing while the girls sun bath. In addition, a bike ride around Duck Village… oh what fun the kids would have. Hubby and I love spending time with the nieces and nephews. The lighthouses, we would have to tour one or two at least. Of course, Kill Devil Hills is a "must see" for hubby and dad. The historic site of the Wright Brothers first heavier than air flight and the Wright Brothers Memorial are both found there.
I suppose it is time to wake up from my dreaming. Nevertheless, it was a lovely dream of vacationing with my family in the luxurious Seahawk vacation rental. What do you think awesome family vacation place or what?