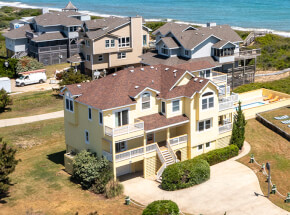 As the song says, Carolina sunrises, best in the world . . .
A vacation at this oceanfront home means Carolina sunrises, blue skies and a blue ocean at your doorstep.  A ten bedroom stylish home which includes seven master suites and two junior masters, accommodates the entire family. Can you imagine gathering your parents, siblings, nieces, and nephews to celebrate Christmas here with the spacious common rooms, amazing amenities, and beautiful furnishings?
Envision a family Christmas Eve gathering on the private beach from a dune-top deck. The amenities are awesome providing unlimited entertainment and holiday fun. There is a ground level den, wet bar and game room, and theater too. The theater is equipped with surround sound; not to mention the 13 televisions, 12 DVD/VCR players, and stereo located throughout this stunning vacation property. Of course, the men will love the game room with pool table and foosball. Additional amenities include books and puzzles; great room with HDTV, kitchen with double appliances; 2 washer/dryers, queen bedroom on the lower level has a wheelchair accessible shower, ceiling fans throughout, high chair and pack n play, captain's watch, charcoal grill, 2 hot tubs, a private pool with tiki-bar, and the 70 foot private walkway to beach.
If your family was large enough to fill the <a href="http://www.carolinadesigns.com">vacation rentals outer banks</a>, just split the rental cost and this holiday dream vacation could easily become a reality, just sayin!